Identification and Treatmentof Life-Threatening Hemorrhage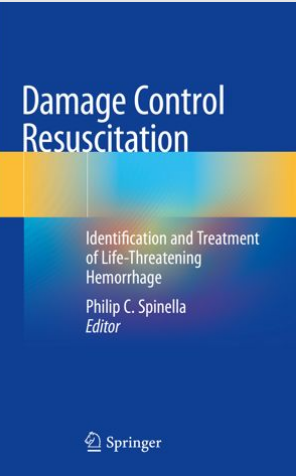 This book provides a comprehensive overview of damage control resuscitation (DCR), an evidence-based approach to the resuscitation of patients with severe life-threatening hemorrhage (LTH). It focuses on both civilian and military applications, as DCR is utilized in civilian trauma situations as well as combat casualty care settings.
The book covers the history of fluid resuscitation for bleedin, epidemiology of severe traumatic injuries, prediction of life-threatening hemorrhage, pathophysiology and diagnosis of blood failure, and permissive hypotension.
Chapters provide in-depth detail on hemostatic resuscitation principles, dried plasma, dried platelet surrogates, and recent developments in frozen red blood cells and oxygen carriers. The book also discusses how DCR principles can be used in a variety of situations: patients with hemorrhagic lesions, non-trauma scenarios, and on distinct populations such as children. Finally, it concludes with a discussion of training and education methods for the implementation of DCR and remote DCR principles as well as learning healthcare system principles to facilitate the implementation of DCR and ultimately improve outcomes for patients with life-threatening hemorrhage.
DOI: https://doi.org/10.1007/978-3-030-20820-2
https://www.springer.com/gp/book/9783030208196